M. A. C. K.

Mission for Amerasian Children of Korea
P.O. Box 597101
Chicago, IL 60659
Young Cheol (James) Kang, a missionary for Amerasian children with M.A.C.K., is shown here with revisiting Korean War veterans and others in Seoul, Korea, October of 1998. As a goodwill gesture to the Korean Veterans Association in Seoul, the group of Americans donated $450 to help the children of M.A.C.K. Kang, who is Amerasian himself, has been working for the mission for five years. His mother and stepfather live in Milwaukee, Wisconsin, but James has never met his natural father.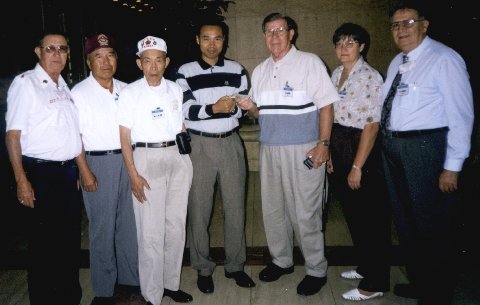 Pictured from left to right:
Clyde Fruth, Yang Ho Song, Jae Won Lee, Mack Missionary James Kang, Urban Rump, Lynnita Sommer and Bob Kenney
If you were in Korea during or immediately after the war, you probably remember the plight of the Korean children. Many were killed, made homeless, and lost parents because of the war. There were hundreds of instances when American servicemen took children into safekeeping, allowing them to do chores around the camp in exchange for a place to sleep and eat. Veterans' associations established orphanages for some of these unfortunate children, and some were adopted into American homes. Among the strongest memories of Korea for many Americans who returned home are those memories of the little children who were such helpless victims of war.
The suffering for some 300 South Korean children is still continuing today. Why? Because those 300 children are Amerasian -- children of GI's who served or are currently serving a tour of duty in Korea. These children live a terrible life in Korea. Most of them were born without fathers, and their mothers cannot adequately support them. The luckier Amerasian children find temporary housing with Americans who are TDY in Korea. Many others, however, are street children who hide out from their tormentors, while others are living with their single mothers in desperate living conditions. They have no opportunity for higher education, and many drop out of school because they cannot stand being ridiculed. They are inadequately clothed and fed. The older children cannot find jobs for racial reasons, so they walk the streets to find menial tasks which pay low wages. Most Koreans believe in one blood/one nation. Racism is strong in Korea, and Amerasian children who "look different" are mistreated, neglected, and shunned by Korean society.
In 1982, U.S. President Ronald Regan passed an Amerasian Immigration Act which allowed all Amerasian children born between 1950 and 1982 to come to America, so long as they had a sponsor. This gave many neglected children an opportunity to break free of their plight. The door is effectively closed, however, to all the Amerasian children born between 1983 and the present. These innocent children are the offspring of American men just as much as they are children of Korean women. Their fate is tangled between politicians in America who say the youngsters are Korea's problem, and politicians in Korea who say they are America's problem.
These needy children must have help. To do just that, the Mission for Amerasian Children of Korea (MACK) was established in Orland Park, Illinois. MACK was started by lay women with a mother's care and interest. The founders of the organization believe the only way to save the 300 children is through education. If occasions arise, MACK also arranges adoption. No money is spent for salaries. Instead, the work that is being done is volunteer. MACK is a Christian ministry to Amerasian children, but funds are limited and not all children can be rescued. The decision on which of the 300 Amerasian children needs immediate rescue is based on which children are in the most desperate situations imaginable. Currently, there are 35 children under MACK's care. The mission center is located in Tongduchun (home of the 2nd Division), Korea. MACK children are usually sent to an American school for military dependents in Tongduchun. The children, whose ages range from 6 years old to 15 years old, go to school there for two or three years and then are sent to the United States for adoption if possible.
More funds can help more children be rescued. There are two ways Americans can help save the Amerasian children of Korea. Monthly, quarterly, or annual donations to Mission for Amerasian Children of Korea are welcome in any amount. Funds given to MACK are used to pay for tuition, books, and pencils. Enrollment in the school costs about $195 per month per student. Secondly, AND WE EMPHASIZE THIS, write to your congressional leader and urge an update of the Amerasian Immigration Act which would allow children born to Korean/American parents from 1983-1998 to be admitted to the United States if someone will sponsor them. Innocent children are not to blame for coming into this world with mixed blood. In God's eyes, a child is a child. Such a precious gift should be handled with care, protected, and nurtured with love. Please help the Amerasian children of Korea. Small and large contributions are welcomed with great appreciation.
Copyright © 1998 Korean War Veterans National Museum and Library
Of Interest to Korean War Veterans