Tuscola's MIA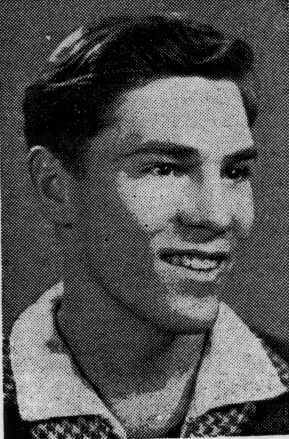 Herman Lee Jacobs
Pvt-2, Co. E, 5th Infantry Regiment
Tuscola is the home of Korean War MIA Herman Jacobs, son of Ivan and Goldia Romine Jacobs. Herman, was born April 1, 1928. A 1947 graduate of Tuscola High School, Herman participated in intermural sports all four years.
Herman entered the U.S. Army on 24 Oct. 1950. He was stationed at Ft. Leonardwood, MO Oct. 50 - Nov. 50, Ft. Carson, CO Nov. 50 to Feb. 51, Ft. Lawton, WN Feb. 51 and then it said all stations APO after March 51. He was in Co. E 5th Inf. Rgt. & was declared MIA near Ukkalgye, South Korea on 22 April 1951 when the companies position was overrun by opposing forces and they were forced to withdraw to new positions. The company's position was overrun by the enemy near Ukkalgye, South Korea. Afterwards Pvt. Jacobs could not be found. Other casualties at the same time and place were:
Archambeault, Richard J.
Bazemore, Willard A.
Beals, James e.
Best, Robert
Boydston, James L.
Emery, James R.
Erickson, Herbert L.
Frank, William A.
Gloria, Paul H.
Hamby, Cleo D.
Hagler, Carter B.
Heald, Arthur D.
Hiltibron, Charles E.
Hodge, Willard P.
Kaakimaka, John K.
Copyright © 1998 Korean War Veterans National Museum and Library
Of Interest to Korean War Veterans